When is the best time to go to Hong Kong?
The city of Hong Kong, otherwise known as a destination for both leisure and business tourism, is particularly pleasant during the months of November and December. This period allows for the combination of freshness and sun, which is also perfect for shopping. The rest of the year, the climate is less forgiving as once the cool temperatures in January and February, the rain arrives and intensifies over the following months.
Overall however, the humidity is not deterrent enough to keep tourists away from coming to Hong Kong as they wish and that, at any time of year. Cultural events, sports events and traditional Chinese festivals follow one after another, but none are alike. Therefore, after the Chinese New Year which takes place in late January and early February, cultural discovery enthusiasts can choose to visit in June and attend the Dragon Boat festival or the Mid-Autumn Festival in August. In November, the Hong Kong International Cricket Sixes is an event not to be missed, promoting peak attendance
So, when is the best time to go to Hong Kong? Here's some more information to help you in your decision:
In Hong Kong, the weather is good everywhere in January, October, November and December
The best months to go to Hong Kong Island are January, October, November and December
On average, the warmest months in Hong Kong Island are June, July, August, September and October
The rainiest months in this city are June, July, August and September
The cities with the best climate are Hong Kong Island, Cheung Chau, Kowloon, Lamma Island, Repulse Bay beach, Shek O Beach, Tai Po and Victoria Peak , with good weather at least 4 months a year
The best months for swimming in Hong Kong Island are May, June, July, August, September and October
For information about the climate and the weather city by city in Hong Kong for a specific month, click on the corresponding line below:
*
weather varies across the country
; please check out the Where to go section below.
---
Best time to travel to Hong Kong by cities

---
---
Climate and Weather in Hong Kong
Located near the Asian continent as well as near the Chinese mainland, Hong Kong enjoys a subtropical climate, offering distinct seasons and a particularly humid weather. The latter is pleasant most of the year, apart from the typhoon period from May to November.
Hong Kong in the Summer
As in many countries of Southeast Asia including Thailand and Malaysia, Hong Kong experiences hot summers that are sunny but particularly humid. It is not uncommon to see a few storms or other occasional rains darken the sky. If temperatures rarely exceed 30 or 31° C, the high humidity compromises for such by bringing stifling heat. The typhoon season is in full swing at this time of year.
Hong Kong in Winter
Due to its subtropical climate, Hong Kong experiences a much drier winter than summer. The weather is cool and cloudy and sometimes the Hong Kong climate is clouded by several cold fronts throughout this period.
Hong Kong in the Autumn
Autumn is probably one of the best seasons to discover Hong Kong. Unlike the summer when the heat is overwhelming, this fall season has a slight breeze that offers pleasant temperatures. In addition, the rate of sunshine is very highly visible during the fall months. Be careful though, because the typhoon season runs up until November, just as in Indonesia and Taiwan.
Hong Kong in the Spring
In the spring, Hong Kong gradually adorns its summer climate. Furthermore, temperatures and humidity rise gradually. Be careful as evenings are often still fresh and the typhoon season begins in late spring, in the month of May.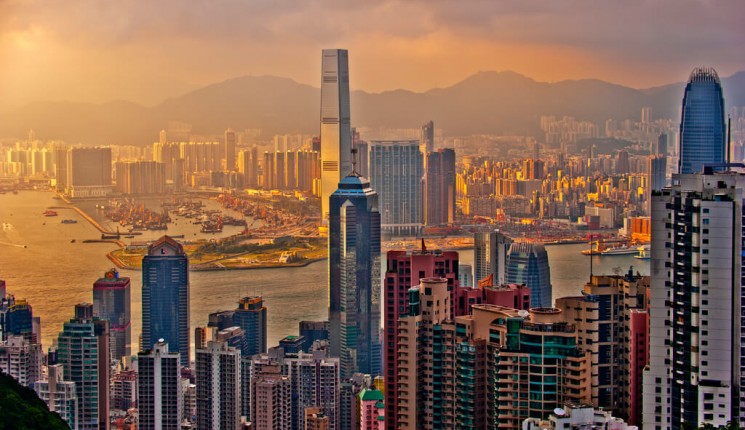 ---
Temperatures and rainfall in Hong Kong
On these 3 graphs, we present the evolution of temperatures of Hong Kong and month-by-month rainfall for the cities of Hong Kong Island, Cheung Chau, Kowloon, Lamma Island and Repulse Bay beach, as well as the month-by-month sea temperature for coastal cities.
---
Where to go in Hong Kong?
This table allows you to see the maximum temperature for each city and our opinion on the weather month by month (see colour legend below the table).
Legend:
Map of Hong Kong
Click over cities for information about the weather.

cities in Hong Kong
---
About Hong Kong
What can I do in Hong Kong?
Beaches / swimming

Nature and countryside

Culture and heritage

Sports

Family travel

Crafts / shopping

Gastronomy

Nightlife

---
Is this weather information for Hong Kong reliable?
Climate data for Hong Kong has been gathered every day since January 2009. The analysis of these meteorological data for Hong Kong allows us to determine the average for each month in Hong Kong Island, Cheung Chau, Kowloon, Lamma Island, Repulse Bay beach, Shek O Beach, Tai Po and Victoria Peak .
So yes: this data is reliable except in cases of temporary climate disruption in the region.
Average weather and best time to go: city by city in Hong Kong:
Change units: