Best time to go to Queenstown Average weather of Queenstown, New Zealand
Get the very best time to go to Queenstown in New Zealand from average climate conditions right here.
When is the best time to go to Queenstown?
When is the best time to go to Queenstown? Here's some information to help you in your decision:
The best months for good weather in Queenstown are January and February
On average, the warmest months are January, February and December
August is the coldest month of the year
The rainiest months are January, April, May, August, September, October and December
For full information about the climate and weather in Queenstown a specific month, click on the corresponding line below:
---
Weather and climate in Queenstown
From january to february the climate is beautiful. The record temperature this month is 85°F and it rains in february about 4.6in.
Between the months of march and april the climate is not good, but still OK. In average, on the morning it is 40°F and, in april, 13 days of rain are expected.
Between may and october the climate is very bad. At lunchtime, it's 54°F in average and it rains about 60% of the time in october.
Between the months of november and december the climate is correct. It is for example 67°F as maximum temperature in december and it rains in december about 5.7in.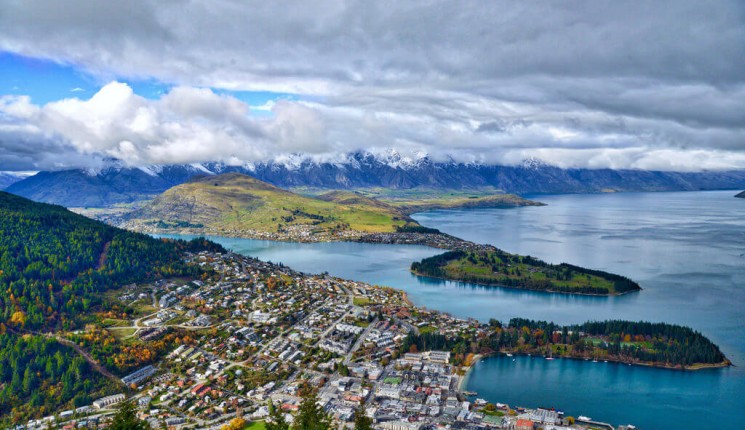 ---
Tours and organised trips in New Zealand
---
Chart: temperature and rainfall in Queenstown
The chart below allows you to look at the following seasonal norms for the city of Queenstown: minimum and maximum temperatures, and the monthly volume of precipitation for each month of the year.
---
New Zealand: get the best price!

Try it!
The SkyScanner search engine checks several airline and travel agents to guarantee you the best price!
---
Map of New Zealand
Queenstown appears on the map below with a blue icon. The other cities or locations in New Zealand appear on the map with a black icon. Click for information about the climate.
Chargement en cours
Legend:

Queenstown

other locations
---
Recommended for you:
Other cities and places near Queenstown
Key cities in New Zealand
© 2014-2019 Des Clics Nomades SAS - All right reserved